We strive to provide fast, reliable service, please contact us either by phone or email for any inquiries you may have
Phone: +61 03 9584 3058
Fax: +61 03 9584 8346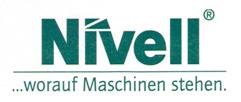 NIVELL - on which machines are firmly based
From the beginning, Nivell have devoted themselves to the needs of a modern plant layout. Nivell have developed a range of technically outstanding machinery positioning products, for use on any machine, no matter what its location. With over 100 different products, you can be guaranteed you'll find the right leveling mount, to fit your specific need.

Brunox - High Quality special Lubricants for Food and Non-Food applications. Liquids of excellent properties, having a pleasant odour as well. Brunox® Lubri-Food is a NSF H1 registered product, while Brunox Turbo-Spray and Brunox Lub & Cor® are compliant with NSF H2 specifications.
Enquire within for stock items and pricing.
Interested in becoming an area distributor? It's an opportunity not to miss - so drop us a line or an email!